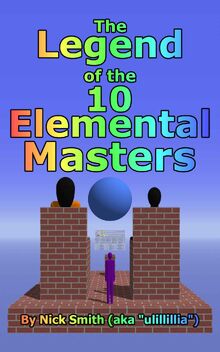 The Legend of the 10 Elemental Masters is Ulillillia's first novel, self-published in 2009.
Development and history
Edit
Ullillillia wrote the first draft of the story, then titled Rise of Atlantis, in 1999. This version was much longer and included many "illogical events" as well as irrelevant dialog. A second, much shorter draft was written in 2002. It was not published, as Ulillillia was not familiar with self-publishing at the time. In 2004 he rewrote the story as a movie script, but was unable to convince any studios to pick it up. The final version, which features elements of a film script style, was finished in December 2008 and published on Lulu in 2009.
As of 2 July 2011, the book had sold about 600 copies.
Influences
Edit
The story is inspired primarily by Ulillillia's dreams and his mind game. Ullillillia was an eighth-grade student at Erik Ramstad Middle School at the same time his fictional protagonists are, and the party featured in Scene 3 is based on a real party held at the school on 28 May 1999.
Lake Sakakawea, which Knuckles glides over on his way to Minot in the book's opening scene, is the location of the YMCA Triangle Camp, which Ulillillia attended in the summers of 1997 and 1998.
It is often alleged that Knuckles is based on the Sonic the Hedgehog character of the same name, on account of both characters being covered in fur and having the power to glide through the air. Ulillillia has disputed this accusation at length.
Characters
Edit
Knuckles – a diminutive humanoid alien from the planet Korona with purple fur and magical powers. He is the main protagonist of the story.
Ivan – a 14-year-old Native American student at Erik Ramstad and sports enthusiast.
Tu – a 15-year-old female African American student at Erik Ramstad and "science whiz".
Seth King – the main antagonist.
Community content is available under
CC-BY-SA
unless otherwise noted.